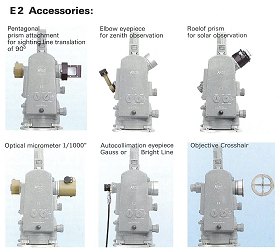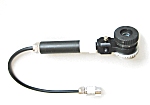 Kern Laser Eyepiece with Green Laser Diode Module. Can be attached to any Kern theodolite or instrument. Powered by a 3 Volt Kern 2xD battery case. All internally wired, screws onto electr. connector on telescope, with a maximum output of 5mW. Can be focused to a tiny dot and is ideal for pointing or painting a line on an object.






Parallel Plate Micrometer set with DKM2-A or Kern E2 counterweight etc. Overall range is ± 0.100" with direct reading to 0.001". Also available in metric 10 mm range, 0.1mm direct reading.

Short Focus Lens set with range of 34.2" to 66.8"


Swisstek targets for Kern reflectors. Spring-loaded shaft with 16 mm OD and inner diameter of 1/2". Plug into the eyelets of Kern EDM reflectors for precise co-axial targeting, etc. Increased visibility with lime green self-adhesive decals.