Ferdinand Rudolf Hassler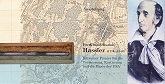 Swiss emigrant Ferdinand Rudolf Hassler, born in Aarau in 1770, set out in 1805 to measure the new world.
Arriving on American shores in the early eighteen century and armed with exact copies of the Comité (ur-) meter and weights in his trunk, Ferdinand Rudolf Hassler was appointed in 1807 by President Thomas Jefferson as the first superintendent of the U.S. Coast Survey. Albert Gallatin, Secretary of the Treasury (and fellow Swiss emigree), issued a call for a plan for the Survey of the Coast. Later that year, Rudolf Hassler's plan was selected.
The U.S. Coast Survey was this country's first scientific agency. In 1878 it was to become the U.S. Coast and Geodetic Survey, and almost a century later, in 1970, was reorganized to its present day U.S. National Oceanic and Atmospheric Administration, or the more familiar NOAA¹.
Hassler is considered the father of modern-day NOAA², which in 2007 was celebrating its 200th anniversary. Later, he also was to become the first superintendent of the predecessor organization of the U.S. National Institute of Standards and Technology, NIST.

Also in that same year several exhibits were held in Switzerland to honor the achievements of this outstanding pioneer and scientist who was of great significance to American history.

A wholly dedicated website to F. R. Hassler by swisstopo can be found under the following web address of http://www.f-r-hassler.ch/en and another historic commemoration of his life is featured under NOAA³.

Shown here is a fine example of a late 19th century, copy 4 of a Comité meter made by S.I.P. GENEVE (Societe Genevoise d'Instruments de Physique SA). It has an H-profile or cross section and the metal is of a nickel-silver alloy. The raised etalon is inscribed in mm and cm intervals. Most likely the manufacturing year dates to somewhere after 1875, the year when the international meter convention was held. This particular specimen was delivered to the then Russian Empire, a first time signer to the treaty in 1875.

~~~~~~~~~~~~~ 0 0 ~~~~~~~~~~~~

Kern Aarau Instruments, 19th and 20th Century


Invoice March 23rd. 1878 for two each drafting compasses.
Signed by Mr. J. Kern




Drawing set repair invoice, collect. WWW1 restriction for domestic consumption only.

| | Earliest 5" Theodolite Kern DK0 | Earliest 1" Theodolite Kern DK1 | Earliest 1/10" Theodolite Kern DK2 | |
| --- | --- | --- | --- | --- |
| Kern Level No 403 with removable telescope | Reading of DK0 scale | Reading of DK1 scale | Reading of DK2 scale | |
Stamp featuring a Kern DKM1* with 1958 map in background,
commemorating the 1951-52 survey expedition to South Georgia and South Sandwich Islands under Duncan Carse.
First day issue: January 5th. 2007 by



Falkland Islands Philatelic Bureau

.

*The Kern DKM1 depicted on this stamp is in actuality a DKM1-MIL north-seeking gyroscope version.
This 1979 design adaptation differs considerably from the original DKM1 theodolite model the explorers used on their 1951-52 surveying expedition.